House Building Workshops For Small Buildings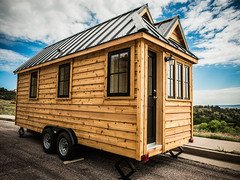 The Tumbleweed tiny house company is one of the very first companies of its kind. This is one of the reasons that I highly recommend it to everyone — because of their long-time experience and knowledge.
Workshop For Building A House
Whether you are just interested in learning more about tiny houses, or you would like to build one for yourself, this is the place that you would want to go to find out everything that you need to know.
They have been running workshops all over North America for many years. It's the experts, including the owner/operator of the company that are involved with the workshops. That way you are assured to get your monies worth.
What You Get
You'll learn everything that you need to know in order to build a house with your own hands, or to contract someone to build it for you. At the end of the two-days, you'll know what you are talking about. You'll know that what you are doing is right from start to finish.
You'll also get to know some other like-minded people. You'll meet and get to know the experts as well as people that have already been through the process. When you are in the planning, designing, or building stage – these people could help you if you find that you need some help. You could bounce ideas off of each other, and get the answers to any questions or concerns you would come across.
During the two-days, you will get enough details that you'll come away with confidence in the building process.
You'll leave at the end with an attitude that you can do it. You'll be well on your way to planning your way to a life without debt, and a life full of freedom and happiness.
The Tumbleweed tiny house workshops are a good way to go when you are serious about improving your life. One of my favorite expressions says it all – you'll be "living large in a tiny house".