Tiny House Building Videos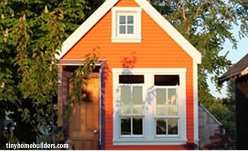 There are two really good video series that you could watch, they are:
How To See How A Tumbleweed Get Built DVD.
Home Building Video Series
It's always a good thing when you can actually see the house building process that they use for building tiny houses. Now you can do just that in your own home, on your own time, and you can take as long as you want to watch them because the video is yours to keep.
Tiny Home Builders has a complete video series that shows you and explains everything that you need to know about the building process – from the materials and supplies you'll need, electrical and plumbing, how a house is built and much, much more. All of this in very detailed videos.
It's almost as good as being there. Almost as good as participating in one of the house building workshops.
We know it's not always possible to go to one of the workshops. It may be money, or it may be your time that is holding you back so watching the video is the next best thing.
Both of these how-to video series are a good place to start. They are a great source to understand what is involved with planning and building your new tiny home. A resource that you can refer to over and over again before and during your building process.