The Tiny House Magazine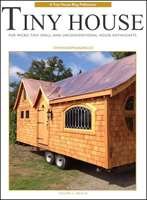 Issue #22 has been published and is ready for your viewing.
It's 68 pages full of invaluable information.
These are full of great information for
anyone that is living the life.
for anyone that wants to and/or is planning to.
people that love small and unique homes.
They are full of great information and images.
And – you can get them in PDF format, for your iPad or your Android
Every time I get one of these magazine, I am reminded of the huge strides in improvements in the designs and construction of the houses today versus not long ago. Just a few short years ago the plans and designs were fairly simple and much the same from one to the other.
These days, they are so much more – inside and outside.
Some could even be called A Work of Art in the architectural world.
I'm still amazed at how much comfort can be fit into a little place.
Get TH Issue #22 and see for yourself.