Downsizing the Super-Sized House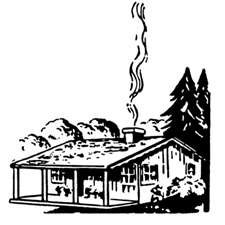 America has become a "super-sized" society for everything from fountain drinks, burgers, fries, cars, and homes. Not everyone is happy with the growing size – whether it be our body or things.
One thing that is growing for the good is the idea of downsizing; especially when it comes to the size of housing.
Why very small homes are better.
Three Popular Companies With House Building Plans
Overall, it's an improved, smaller way to live. Just about everything associated with your life will become smaller and easier to manage.
I am living proof of this. It has been almost three years since I downsized and from the day I started on this journey, everything seems to have fallen in place.
One example, I have more money left over at the end of each month which I used to reduce debts. In turn, my stress level has decreased.
Tiny homes generally range from 70 sq. ft. to 800 sq. ft. Small is a relative term. For some people the thought of moving from a 5,000 sq. ft. house to a 1500 sq. ft. house is downsizing. Yet others may think anything larger than 800 sq. ft. is too big. It is a personal decision and must fit your individual lifestyle. It must be right for you.
How making this choice will improve your life.
The most obvious area you will notice the difference is in the cost of building and maintaining your home.
The overall cost of building a tiny house is substantially cheaper than what you would pay for large home. You could even use some of the highest quality materials and it would still cost less than a much larger home. You have the option to think quality over quantity which many people can't afford when building a large home.
The repair and maintenance aspect of tiny homes is much lower too. Everything is on a smaller scale – a new roof will be less, painting will be cheaper and take less time, if you have an unexpected issue it probably won't be a major expense as it would if you lived in a larger home.
Utility bills will be less because there is less room to heat or cool.
Cleaning is not one of my strong points, in fact I hate cleaning so the fact that there is less space to keep clean is a high point for me. With a small place it takes very little time and effort to keep clean.
Clutter must be kept under control. A good rule of thumb is that if you bring something new in, something old must go out. This way you never have more than you started with.
There is a coziness to a small home. If you live in a large home, how much space do you really use? Usually there are rooms that go unused.
How often are your extra bedrooms used?
Do you really need a formal living room and dining area?
We all get caught up in the buy more, have more mentality. Why not take a step back, look at what you have and what you use. Look at your home and your life and see what really makes you happy and satisfied.
Really think about what you really need in your life. What you have money for. What you have time for.
Then think about what you could accomplish if you had some spare cash and spare time.
You'll be surprised.
There are lots of ideas and suggestions floating around for you to try. Been there, done that. The only suggestion that truly worked for me is when I took a leap and simplified my life. If you ask anyone that has moved into a very small home, they will tell you that it was the best decision they could ever have made. Life is so much better when there is less to worry about.