New Magazine Issue And 25% Off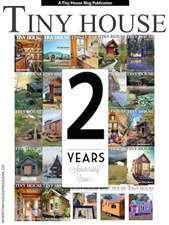 We just got notice that the latest issue has been published.
Tiny house enthusiasts rejoice! There are two things to be happy about this time.
#1 – The 24th issue of this fabulous magazine has just been published.
and
#2 – In the spirit of the holidays, you can get can this issue and any previous issues for 25% off the regular price.
How to get your issue or issues:
Click the link above.
Select whichever option you want: Issues 1 – 12, or Issues 1 – 22.
Click Add To Cart or Buy Now button.
Enter the coupon code (see above).
Click the Update Cart button.
Submit Your Order.
It's as simple as that.
Two Years And Going Strong
Now would be the best time to get 12 or all 22 issues at a greatly discounted price.
The latest issue or a combination of up to 22 issues would be a perfect (and easy to get) gift for anyone that is interested in tiny houses.
They are not available in printed format, you won't find these magazines in any store. They are an easy purchase and easy download that are available in three of the most popular format choices:
This issue is 69 pages full of great photos, and articles and information.
The catch? Nothing other than the fact that…
Time Is Limited
The sale is on for a very limited amount of time. It starts on December 18 and ends December 23 at midnight.
Hurry over and get one of the nicest and easiest gifts for yourself or for someone you know that likes small houses. Anyone reading and enjoying any of these issues will get some unbeatable ideas and information.