The Annual Tumbleweed Holiday Sale Has Begun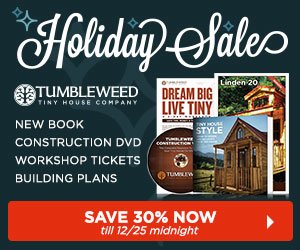 There are quite a few items on sale from books to plans to workshops. See below for all the details.
They offer the huge discounts only once or twice per year.
This time the discounts are 30% or more on most of their products.
Click the link below to see all the items on sale:
30% Plus Savings Starts Now and Ends December 25, 2014
This is a savings that you don't see very often.
With the holidays coming up quickly, just thing — any of these items would make a great gift.
Now is the time to buy – when you can get them at a greatly reduced price.
New Book – Tiny House Style
In addition to all the sale items, they have just introduced a new book.
For the introductory offer, you can get the new book at 30% off the regular price.
This book is a virtual tour of pictures and images of various rooms in tiny houses. You'll see pictures of living rooms, bedrooms, bathrooms, kitchens, storage solutions, interior and exteriors, and much more. It's full of great ideas and inspiration for your own home design.
Products                          Regular Price       Sale Price
Tiny House Style                $29.95                 $19.95
Construction DVD               $59.95                 $39.95
Workshop Tickets               $399.00               $279.00
Building Plans                    $759.00               $499.00
2015 Scheduled Workshops on Sale
Vancouver
January 17-18
Boston
January 24-25
Orlando
January 31 – February 1
Colorado Springs
February 7-8
Sacramento
February 21-22
Washington, DC
February 28 – March 1
Las Vegas
March 7-8
Raleigh
March 14-15
Madison
March 28-29
Toronto
April 11-12
Austin
April 18-19
Long Island
April 25-26
Olympia
May 2-3
Santa Fe
May 16-17
Santa Cruz
May 30-31
Minneapolis
June 6-7
San Diego
June 13-14
Atlanta
June 27-28
Portland
July 11-12
Dallas
July 18-19
Nashville
July 25-26
Berkeley
August 8-9
Boulder
August 22-23
Phoenix
August 29-30
Chicago
September 12-13
Philiadelphia
September 19-20
Charlotte
September 26-27
Seattle
October 3-4
Los Angeles
October 17-18
Ann Arbor
October 24-25
Houston
November 7-8
Asheville
November 14-15
Sonoma
November 21-22
Please check the website to confirm location and dates.
Building Plans on Sale
Cypress
Elm
Linden
Mica
B-53
Loring
Whidbey
Harbinger
Z-Glass
Enesti
Bodega
Sebastarosa
New Vesica
Click the link below to see all the items on sale:
30% Plus Savings Starts Now and Ends December 25, 2014
The best part is you can spread the payments out into three installments for some of the house plans.
Remember, you have one month to cash in on these savings.